4GRouter is a device that, connected to a fixed telephone or to the PSTN input terminals of a PABX or autodialer, allows you to make and receive calls over the 4G LTE/UMTS/GSM network.
4GRouter comes with built-in backup batteries and 2 relays output which can be activated either locally or remotely via SMS.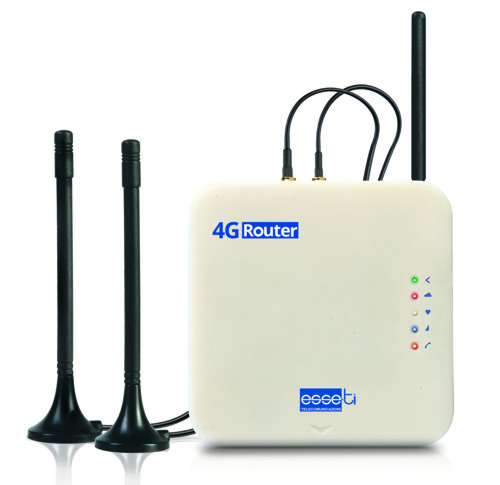 It also has the following features:
LAN/Wireless access point to offer Wi-Fi/cabled connectivity to connected devices
Dynamic DNS client to allow the user to remotely access (using the public Internet) the router itself and all the devices connected to it
Data transmission through standard RS-232/RS-485/CAN-bus.
For correct operation the SIM card must be enabled for voice and data traffic
SERVICES
Easy localization of remote devices with no public IP (communication via socket TCP between 2 clients managed by the server COMNet)

Allows the remote diagnostic and the remote maintenance service

The connection can be activated both client and gateway sides

It sends automatically notifications in case of failures or emergency

Remote programming via SMS.

Reading of programming codes via SMS

Automatic country setting and roaming service

Battery check

External power failure control

Relay-based notification of external power failure

Relay-based notification of 4G LTE/UMTS/GSM network loss

SMS notifications (low-battery, dead battery, replaced battery,external power failure/restore, 4G LTE/UMTS/GSM network restore)

Measurement of 4G LTE/UMTS/GSM signal level

Remote reboot function

Access point wireless

Dynamic DNS client

Data transmission through standard RS-232, RS-485 and CAN-bus
For info please contact our staff at info@marss.eu